Citi Navigator Diaper Bag – Saddle Brown
USE CODE HOLIDAY15 AT CHECKOUT FOR 15% OFF
The Citi Navigator diaper bag was thoughtfully designed to balance sophisticated style with real life use. It's designed with premium vegan leather and stores items both large and small in the 11 organized pockets.
Thoughtful additions include:
-4 Insulated Pockets to Keep Bottles, Snacks and Drinks Cold
-Coordinating Stroller Clips and Changing Pad
-Tissue/Wipes Sleeve on the Outside Pocket for Easy Access
-Laptop/iPad Sleeve
-Dimensions 11" length x 16" height x 6" width
-Waterproof, Premium Vegan Leather Exterior
-Easy to Clean Nylon Interior
-Durable Stroller Clips
-Coordinating Vegan Leather Changing Pad
-Built-in Front Cooler Pocket to Keep Bottles and Snacks Cold
-2 Additional Insulated Bottle Pockets Inside the Bag
-10+ Organized Pockets
-Wet Pockets
-Laptop Pocket- Holds Laptops Up to 13"
 -Padded, Adjustable Backpack Straps
-Fold Down Top For Easy Access
-2 Extra Bottle Pockets That Hold Any Size Bottle
-Compact, Yet Spacious Design
Customer Reviews
10/21/2021
Tiania W.

United States
I absolutely love this bag!!!!
This is the best quality diaper bag EVER!!! Get the bag!! It is so worth it. It's so smooth to touch and there was so much attention to detail in every stitch. I usually do not obsess over purses/bags, but I'm 110% obsessed with this one!! I feel like I'm carrying a high end fancy purse instead of a diaper bag lol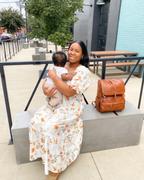 09/14/2021
Lexi R.

United States
Amazing Mom Bag!
I love a bag with a lot of pockets to keep everything in it's place and organized. This bag hits that marker and more! The construction and materials are high quality, I can see this lasting for years without any worries. The interior wipes clean easily. I use this bag mainly for work, transporting all my food, work items, pumping accessories, and breastmilk. The insulated pockets are ideal since I can fit my food in the morning and then bottle's of milk in the evening. The bottle pockets do take a little breaking in to get them to stretch around a bottle easily. For reference, I've used Lansinoh bottles in the front pocket and can fit 3, one in each double insulated pocket and one in the strechy band. With bottles in the pocket, I can't fit anything else. In the interior I can fit a quart sized mason jar in the double insulated pockets. When I've used this as my diaper bag it fits diapers for a newborn and toddler, a change of clothes for each, blanket, burp cloths, snacks, water bottle for mom, my soft structured carrier, wallet/clutch, sun glasses, wipes, etc. Everything I could need and more.
08/08/2021
Jessica G.

United States
Beautiful bag
I am so happy with the look and feel of this bag! It's really stylish and has a durable material and comfortable straps. My one complaint is that it isn't quite as big as I expected. It feels a little cramped inside when the pockets are full. I purchased this to use with my 2yo and a new baby on the way. With better organization, it will work for us. For full disclosure, I have never been a minimalist mom—more of a doomsday prepped when packing my diaper bag. This is a habit I was hoping to break anyway, so I'm still very excited about my new bag!
07/30/2021
Bethany M.

United States
Lovely bag!
I love everything about this bag.
03/04/2021
Nicholas T.

United States
Great Gift
I bought this for my wife and she loves it. It has plenty of room to store supplies for two children, and has great compartments for organization. It's very durable, easy to clean, easy to carry, and she loves how stylish it is. Great product.